History of the Garrett TFE731
TFE731 Engine Parts are engineered and designed by Garrett AiResearch who was later merged with Honeywell Aerospace. The Honeywell TFE731 is a family of geared turbofan engines introduced in 1972.
Aviation and Marketing International is your direct source for TFE731 Engine Parts. With our direct access to TFE731 Engine Parts, repair and re-work capability, you have the opportunity to substantially reduce your costs of engine maintenance. Aviation Marketing has TFE731 engines for sale, TFE731 Engine Parts for sales, and the knowledgeable staff will consult with you to help you find exactly what you are looking for.
The TFE731 was based on the core of the TSCP700, which was specifically developed for use as the auxiliary power unit (APU) on the McDonnell Douglas DC-10. The design featured two important factors: low fuel consumption, and low noise profiles that met the newly established U.S. noise abatement regulations.
The initial testing of the TFE731 happened in 1970 at Garrett's plant in Torrance, California. The first production model, the TFE731-2, began rolling off the assembly line in August, 1972, and was used on the Learjet 35/36 and Dassault Falcon 10, both of which entered production in 1973.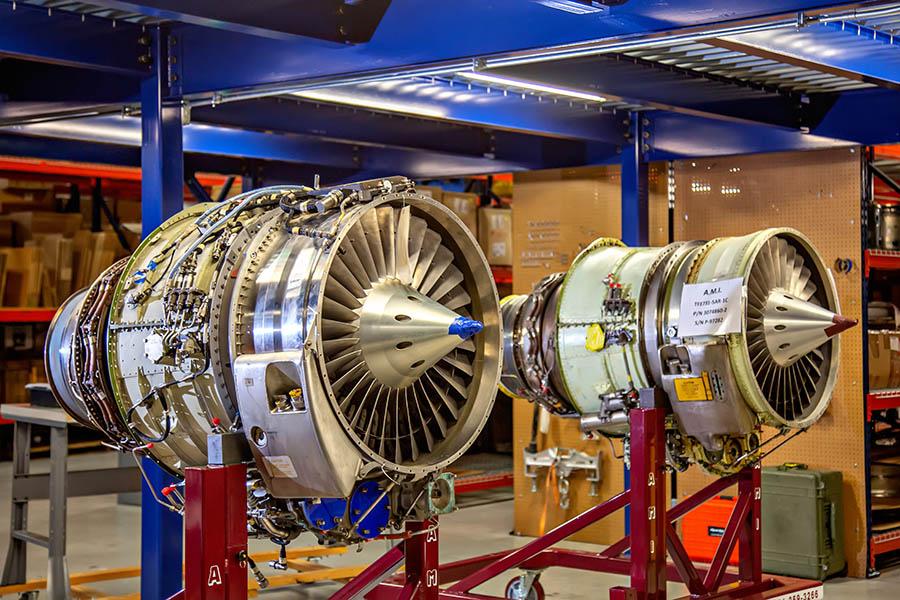 Designing the TFE731 Engine
The TFE731-3 was developed for use in the Lockheed JetStar re-engining program, and subsequent versions of it have been used on a number of aircraft, including the Learjet 55.
In 1975, the TFE731 was named Aviation Product of the Year by Ziff-Davis Publishing Company.
The -5 model was certified in 1982, and a decade later, an engine utilizing the TFE731-5 power section and a TFE731-3 fan was built and designated the TFE731-4, intended to power the Cessna Citation 650 Citation VII aircraft.
The most recent version is the TFE731-50, based on the -60 used on the Falcon 900DX, which underwent its flight test program in 2005. Honeywell has developed this engine complete with nacelle as a candidate to retrofit a number of aircraft equipped with older engines.
The TFE731-60 has an inlet diameter of 0.787 m. The fan consists of 22 fan blades, 52 exit-guide vanes, and ten struts, and is driven by a gearbox. The five-stage compressor has four axial (LP) stages and one radial or centrifugal (HP) stage.
Contact Aviation & Marketing International Today!
Turbine Engines are complicated, but buying or repairing one doesn't have to be. Contact Us Today for a hassle free experience, at AMI we stand behind our work, providing quality products and reliable services at an affordable price.